Blanchard Gold Reviews – Reputable? See the Complaints 2021

Updated June 22, 2021 – Is Blanchard Gold a legitimate company or a scam? Whenever starting to research any company, that is a question that may come to mind. Today we'll try to quell any concerns by taking a look at some of the Blanchard Gold reviews that stand out.
---
IMPORTANT: If you are new to investing in precious metals please start by reading this important info regarding fees and what to look out for in a bullion dealer.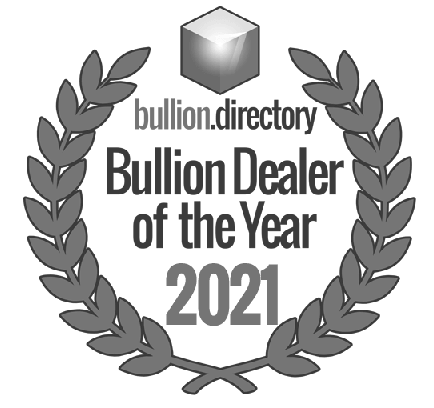 Also, please have a look at the winners of the "Bullion Dealer of the Year 2021" to help you choose which reputable precious metals company to go with.
---
*Please do thorough research before choosing a company to go with. We have come across many horror stories about clients getting ripped off and losing thousands of dollars by just going with any company, later to find they had way too many complaints and bad reviews; some that have even committed fraud.
Blanchard and Company Gold Reviews
There seems to be a bit of confusion regarding the company name, so just to clarify, they now go by Blanchard. They are a reputable business and like so many others in this industry, they do have complaints on review sites. We've done the research and compiled the results, that way you don't have to waste time sifting through all the reviews.
Is Blanchard Gold a Scam?
---
Blanchard gold company is most definitely not a scam. They have been in business for 45 years. Now that is a long time and quite an accomplishment in and of itself. Blanchard offers gold bullion, gold coins, and online services to rollover 401(k) funds into a gold or silver IRA. They also sell palladium and platinum bullion as another avenue to invest in precious metals. They further specialize in rare coins.
According to the Better Business Bureau, Blanchard and Company was started in New Orleans in 1975 as an investment advisory service. They have been an accredited business since 1982 and are a reputable business. Let's take a quick look and see if this company should be considered.
Blanchard Gold Ratings
---

They've managed to hold an A+ rating from the Better Business Bureau (BBB), but sadly have a 1.33-star rating out of 5.
"Zero" positive reviews

Total of two 1-star negative reviews from 2020

One 2-star review from 2019
Positive Reviews
There were two positive reviews that we could find online. The clients that gave them good reviews basically are saying they've done business with Blanchard for many years. Their customer service response rate and delivery time have been quick and they'd recommend them to anyone.
* One thing stands out as being odd, leaving us questioning why there are not any more reviews. Only having 3 negative and no positive reviews while being in business for decades strikes us as unrealistic. It's as if their company profile has been reset.
Blanchard Gold Complaints
---
Back in 2013 when we first reviewed the company, they had 13 complaints in the last 3 years, 3 of which had been closed in the last 12 months at the BBB. Complaints arose from topics ranging from billing/collection issues, delivery issues, guarantee issues, and problems with the actual products received. These have been since removed from the site.
At the BBB, the company has not taken the time to address the complaints.
Negative Reviews
A client is claiming that Blanchard has tried to sell the coins at twice their value. The company responds by denying such accusations stating that they have never sold any product at a 100% markup or even a 50% markup, for that matter.
Despite the complaints, it's good to see the company addressing complaints quickly. It shows they are active in resolving disputes and care about retaining clients and their reputation.
---

They have only one 1-star review from back in 2014, where the person is complaining that Blanchard charges excessive fees and commissions. No reviews positive or otherwise.
It seems as though no clients have offered their full experiences just yet. You can also check out the other consumer sites such as Ripoff Report.
---

There are 7 complaints found on Ripoff Report. Two go as far back as 2012. The most recent is from 2018 (shown below).
One former client claims, Blanchard charged a premium over spot.

Changing prices and not calling back to confirm your order to get approval to lock in prices.

Misrepresentation of value and growth potential of rare coins
See the synopsis of the two complaints below: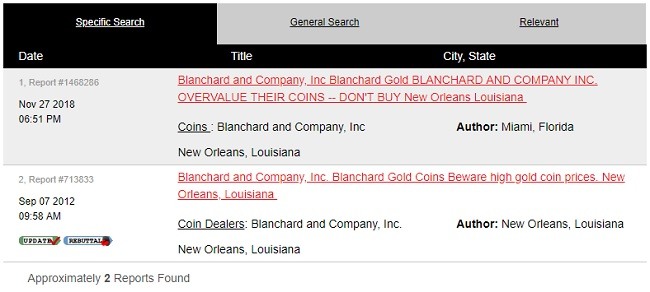 Blanchard Gold Policies
---
One of their policies offers a 10-day customer satisfaction policy after you have received your numismatic coins for instance. There is a buy-back program in place if you ever need to liquidate your precious metals at any time.

No known significant government actions have been taken against Blanchard & Company, Inc.  Thus far they have responded to all complaints that have been filed against them. So it seems as though they do listen to their customers and put forth the effort to help resolve matters. This is a good thing.
Here's a quick video highlighting the company:
What to Watch Out For
---
On occasion, it does happen where clients of companies may feel they were taken advantage of because they had no prior experience with gold purchases. For example, they believed such a competitive market would breed similar pricing on coins and are surprised later to find that they've paid a premium over the current spot price. When researching other companies you may come across reviews like this, but keep in mind these are rare instances.
If the sales associates are looking out for your best interest, you should never feel pressured into buying a certain kind of coin or product. You should also be able to sell your metals back at fair market value at any time.
As a customer, after you send in your check, the company should not stall and take weeks or months to place and fulfill your order. These are red flags. Companies should be timely when you purchase your metals as the markets are always changing. You want to secure the best price on the day you decide to buy, knowing the price could increase the next day.

In Summary
---
Yes, there are positive reviews out there by people that say Blanchard and Company is one of the best in the business and have had nothing but positive experiences with honest associates giving them good investment advice. This shows that they should not be distrusted and that by helping many people they do deserve to be considered for future transactions.
If you come across disheartening stories of others' complaints don't ignore them completely. Most companies don't advertise to be the cheapest, but there should be a reasonable limit of premium being added on to prices. Do your research and have an idea what the average prices are before calling, that way you can gauge for yourself if a particular company is charging too much.
Which Company Are We Recommending?
---
A company that is well known for fair pricing and not over-charging is also currently our highest rated precious metals dealer and was chosen "Bullion Dealer of the Year". (?click to see their company review)

If you have any information to add with regards to Blanchard Gold reviews or on Blanchard and Company complaints in general that you'd like to share or have had a first-hand positive experience please share it with the rest of us here. It will help a lot of folks out when deciding which company to go with. Thanks in advance for contributing.