Heritage Gold Group Review
Wondering if there are any recent Heritage Gold Group complaints or reported scams? Are they legit? Well after all our reviews we have reached a conclusion that you'll hopefully find helpful.

Heritage Gold Group is a smaller company with around 15 employees and is relatively young, according to the BBB they've been in business since 2006. They are a division of parent company Goldco Direct which is a gold, silver, & platinum dealer. Heritage is specifically in the business of helping folks convert their current IRAs or 401(k)'s into gold and silver IRAs.
Investigating the company you will be using for your investing is essential when using them for the first time. Most people rolling over their 401(k) or transferring money into a gold IRA haven't done it before. So picking a reputable precious metals IRA company is top priority and can be somewhat confusing with all the choices out there.
---
Heritage Gold Group has been accredited by the Better Business Bureau since mid 2012 and currently holds an A+ rating. There is only one customer complaints reported in the last 12 months and no known significant government actions have been noted on their account. There is nothing negative regarding their current advertising practices either. You may check the BBB if you care to: http://www.bbb.org
The Business Consumer Alliance (BCA) also gives them their highest rating of AAA and no complaints have been filed. There are two positive reviews left by satisfied customers. One talks about the expert service and guidance received. Here is the BCA site:  http://www.businessconsumeralliance.org
The consumer advocacy group TrustLink shows a 5 star rating based on 29 positive reviews so they are in good standing over here as well: http://www.trustlink.org
---
You may not perceive this as being necessarily a bad thing, but when researching for more information on Heritage Gold Group you might notice a lack of presence on the internet and most companies have a digital trail so to speak in this day and age.
On the popular site Yelp there is no information bout them that we could find as of writing this.
There were neither negative reviews nor many positive reviews, not much in any forums or other consumer review sites. Either they have a stellar reputation and nobody has felt the need to complain or not many people use their services and much is not known about them. Their parent company offers the same services which may be confusing as to why they felt the need to start a new company under a different name.

---
When there is little information about the company and it doing business under a separate name as its parent company Goldco, which happens to offer the same services, one might be left questioning why that is? In any event they do have a few positive reviews but perhaps more informaiton is warranted for full trust with large sums of client money.
With no real complaints about them, other than certain products weren't in stock, when we compare them with other companies in this industry they do fall short in the information trail category, which may make it hard to reach a fully informed decision.
For example, our top recommended gold IRA company has over 300 positive reviews over at TrustLink (SEE BELOW)….or you can read the Regal Assets company review here.

Or visit the company's website by clicking below…
So Who Are We Recommending?
---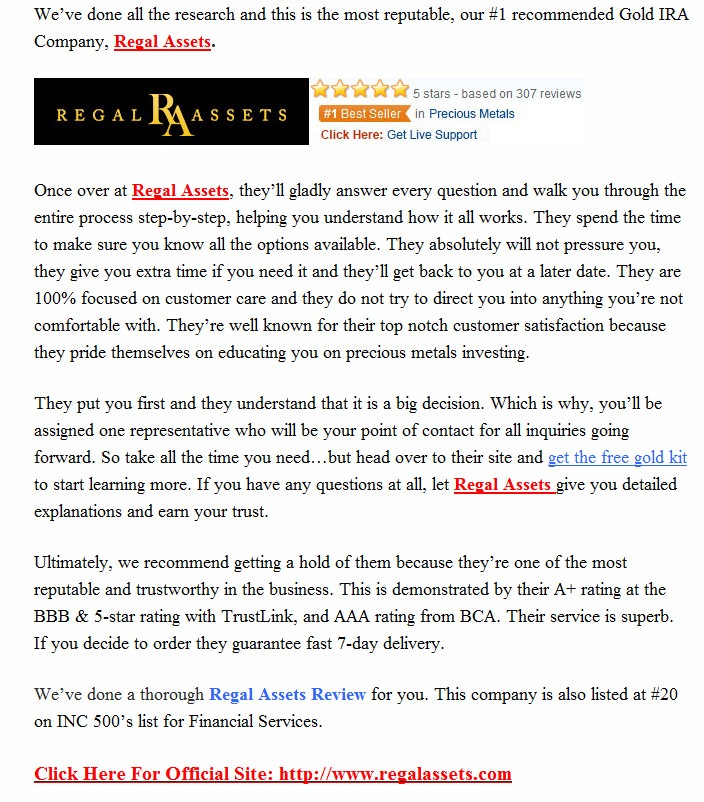 *If you have had your own experience with Heritage Gold Group and would like to leave a comment below we would all appreciate it. Thank you
Reviewed by: GoldIRAinvestingReview.com