CheckBook IRA LLC Review
If you're wondering if CheckBook IRA LLC is a scam or has any problems then please read on. They're services include setting up a Self Directed LLC IRA.
They have a couple of different services which include rolling over funds in a 401(k) into an IRA by investing in precious metals or setting up a Limited Liability Company. With your IRA being the sole owner for protection and tax benefits you can utilize many different investments including real estate, foreign currency, and other asset classes. This company has been in business since 2005 according to the BBB and is listed as a financial planning consultancy. They are definitely not a scam.
---
While there wasn't much information to find online regarding this company, they have been awarded with an A+ rating from the Better Business Bureau and have not had any complaints in the last 3 years with this agency. There are no known significant government actions against CheckBook IRA.
http://www.bbb.org/oregon/business-reviews/financial-planning-consultants/check-book-i-r-a-in-prineville-or-22028859
We were hard pressed to come across many positive reviews and/or complaints for that matter. Most of the good reviews show up on their own website under the 'testimonials' section. These comments should not be ignored. However we recommend searching further for any negative feedback when researching companies. When comments come from outside sources such as consumer protection sites, which may be tougher to find, it helps to get a more complete picture.
If nothing substantial can be found this does not necessarily automatically deem the company as being "bad" however the lack of presence on the internet can cause some concern. Either they're good enough that nobody has felt the need to review or complain about them or it could mean that for one reason or another not many people chose to use their services, hence very little positive or negative feedback.
TrustLink, a consumer review site, does have 3 reviews that say the company has great service and recommends people use them for their gold buying needs. This information does satisfy the question that someone has used their service before and is satisfied.
---
You might have noticed the way they have chosen to word their company name, CheckBook IRA. The phrase "checkbook ira" is a type of way to manage an IRA, otherwise called a Self Directed IRA. Naming this company after commonly used slang for a self directed IRA could be confusing to some. If you happen to be less knowledgeable about the term 'checkbook ira' and end up on their website you may think they are the only ones who offer this service, which is not the case.
Somebody without previous knowledge may conclude that they could only sign-up through this one company, when in reality they could search for perhaps a better deal with other companies.
---
When looking for a precious metals dealer to go with make sure there is enough information out there on the company. This way you can get a full range of previous and current customers thoughts. In this digital age there should be a good deal of information to make a positive or negative impression online. There are many forums and sites that rate company's based on customer feedback. The more sufficient info you read about a company the better your decision will be.
As always with any company, we recommend that you check with the appropriate agencies in this industry to be certain that any requirements such as licensing, bonding,  registration are currently being met.
For a prime example on what to look for in a company, read about our highest rated precious metals dealer here: Regal Assets company review

(OR see below)
Which Company Are We Recommending?
---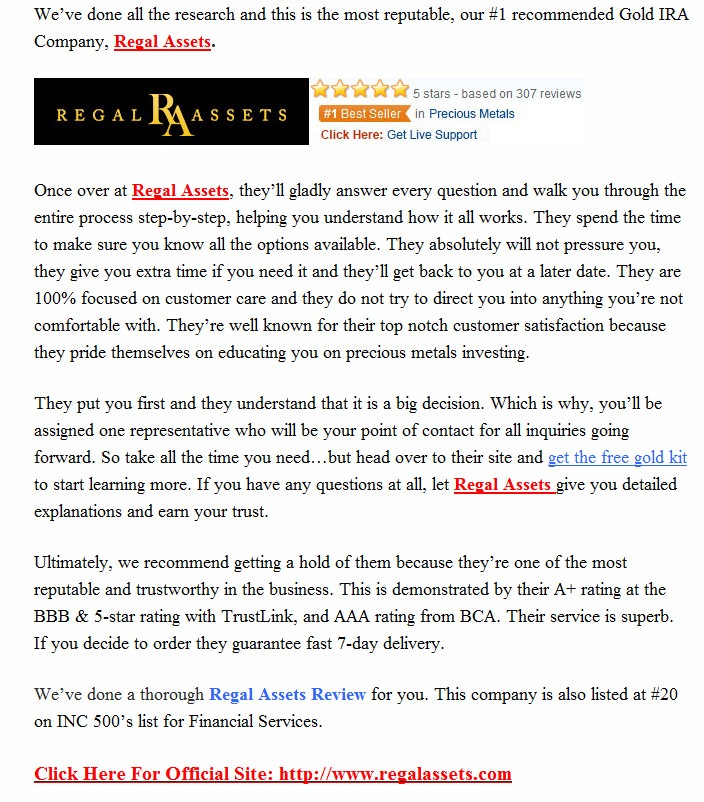 If you have your own insight into CheckBook IRA LLC and would like to share it below in the comment section, that would be great. We all would appreciate your interaction.
GoldIRAinvestingReview.com