Gold Stash Reviews & Complaints – Dave Ramsey Scam Artist Crook or Legit?
Gold Stash Company Review
Wondering if Gold Stash is legit? You may have seen complaints or positive reviews and those accusing Dave Ramsey of being a scam artist, crook, even accusing him of fraud.
He might not be known for giving financial advice, but it seems he was accused of misleading the public with misinformation, even though he might have meant well.
Now usually we wouldn't review a cash for gold company like Gold Stash For Cash, but we will in an attempt to give you the straight facts and inform you about their business model.

Why was Dave Ramsey so adamant about selling gold?
---
Although it is assumed that Dave Ramsey makes money on the products he recommends and promotes his own advertisers he ultimately is trying to get the middle class, and even those with less, to pay off debt and save money before even thinking about investing.
Now he does tend to tie in his viewpoints with his sponsored advertisers which is what most likely happened in the past when he was believed to have endorsed Gold Stash for Cash. From what we've gathered, at the time he was advertising that everybody should be selling their gold. It was in October of 2009 when gold prices were around $1,050/ oz. After his promotions, what then transpired over the next 5 years was in fact quite remarkable, gold topped out at about $1,900/ oz.

Selling or Buying?

---
Especially in these crazy times we're living in buying gold is just another way to diversify and minimize risk. (Also see the article – When is it a good time to buy gold?) The problem is that even though price has come down since then, some might still probably be telling you to continue to sell right now. But most technical analysts actually think it is the most opportune time to buy as price is at a 4 year low. (Even gold's price today at $1266/oz. is still way higher than back in 2009 when Mr. Ramsey was suggesting to sell).

Some say never buy when things are at their "all time highs". Well this couldn't be more WRONG. To put things into perspective, if you were to take that advice and NOT buy when a certain security or asset was at its "all time high" for that time period, you would have never made money through out the Dow's entire meteoric rise from 1982 to 2013. You would have lost the opportunity to gain 1,400% based on this reasononing, which is completely amateurish thinking and just plain uninforned.
Gold getting ready to bounce off support and return to all-time highs?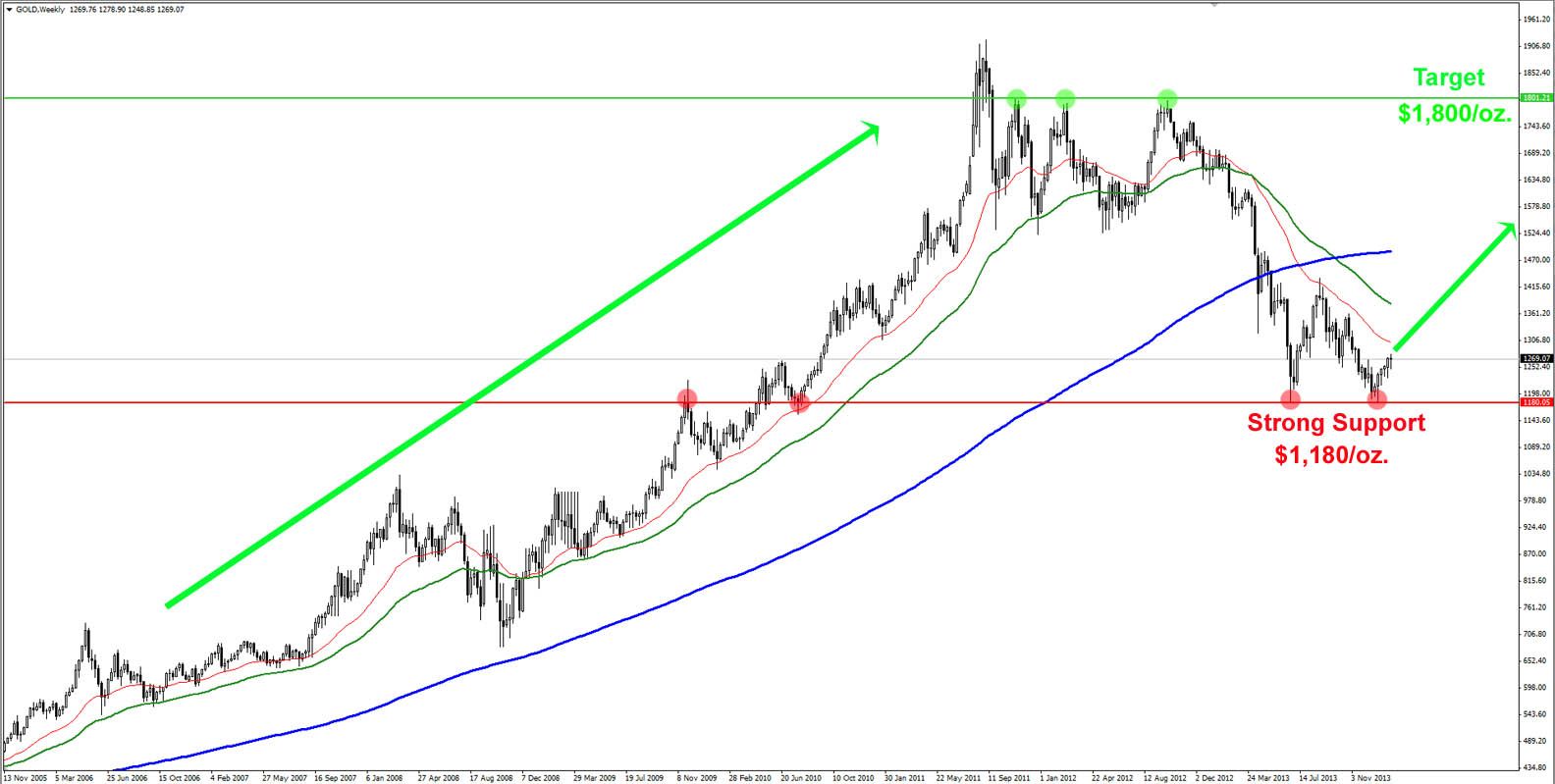 Bottom line now in 2014, after gold's 2013 price correction, while prices are at their lowest in 4 years, is perhaps the time to get ready for purchasing some gold as part of your investment portfolio even if it's not a lot. They say buy low, sell high.To get started even partially investing, buying a few bullion coins is enough, or what savvy investors are really recommending is rolling over or transferring a portion of your 401(k) into a physical gold backed IRA.
Basically, it is understood that you can buy gold anytime, even when it is at it's highs becuase it will always hold it's value in the long run and it also serves as a savings mechanism that can give you huge gains. When prices come down (like they are now), the successful veteran investors hang on to the gold they currently have while buying even more at a discounted price. They view this as an opportunity and never sell, even if price goes down! Gold has over tripled in value in the last decade, and at one point in late 2011 was up %400.
THINK TWICE ABOUT SELLING YOUR GOLD
Historically it is thought that prices will inevitably rise back to the previous highs seen in 2012 and most experts and technical analysts along with billionaire investors are getting ready for a move much higher than before. It's only a matter of time they say.

When is it a good time to buy gold?
---
Although most would argue this is a great time, one that only comes around once in about five years. Calm and calculated well-informed investors are bulking up on gold to ride it to even higher highs, as are many central banks like China and India.

Professional traders will tell you the time to sell would be when it reaches at least back up in the $1800/oz. (that is if you buy now) and if you are strapped for cash try to sell anything else of yours that is worth something. Basically, do anything you can to hold onto your physical gold. They'd even to use ebay to sell stuff you don't need for cash.
No need to buy, but if you are interested in starting small you can look into getting a couple physical gold bullion coins from our top recommended gold company, here are examples of their top of the line investment grade gold bullion (take a look), they also help people with rollover their 401(k) into a gold IRA tax-free.
To read about an examplary company and also currently our top recommended precious metals dealer/custodian see our: Regal Assets company review
Which Company Are We Recommending?
---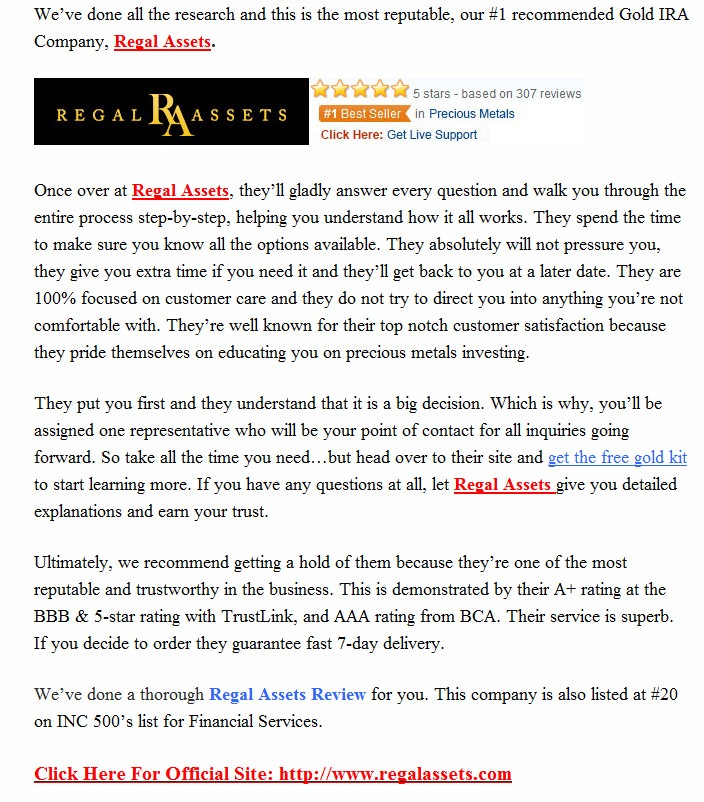 Good luck with all your financial goals. If you have a comment, you are welcome to leave it below.